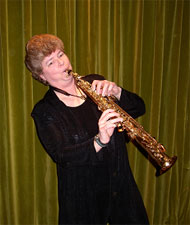 Debbie Webb, lead soprano and alto saxophone, is principal saxophonist of the Pacific Symphonic Wind Ensemble, Delta Concert Band. Debbie is one of Vancouver's premiere classical saxophonists. A featured soloist with the 15th Field Royal Canadian Artillery Band, critics called her performance "flashy, featuring an explosive profusion of arabesque melody, which she handled with fluid ease".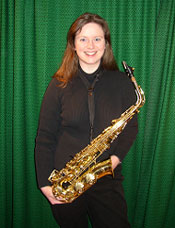 Valerie Crocker, alto saxophonist, has degrees in music and education from the University of British Columbia, teaches music for the North Vancouver School District, and has played with the West Coast Symphony and the Vancouver Philharmonic. She is the tenor saxophonist with the Pacific Symphonic Wind Ensemble.
Bryan Canuel, tenor saxophonist, has a degree in music fromthe University of British Columbia and a degree in Communications from Simon Fraser University. Bryan studied with Julia Nolan, David Branter and Colin MacDonald.  Since 2005, Bryan has performed on his sterling silver Yanagisawa alto saxophone with the Pacific Symphonic Wind Ensemble and is delighted to play his Trevor James "RAW" tenor with his colleagues in Sax Noir.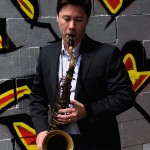 Chuck Currie, baritonesaxophone, is a clarinetist and saxophonist who performs
with the Vancouver Island Symphony, the Pacific Symphonic Wind Ensemble, the The Band of the 15th Field Regiment, Royal Canadian Artillery, the Best Coast Bass Clarinet Quartet, the Vancouver Saxophone Ensemble and is the proprietor of Sax Noir Studio. Chuck is a Backun Canada and a Conn Selmer artist performing exclusively on Backun MoBa Clarinets, Selmer Privilege Bass Clarinets, Yanagisawa Silver Sonic Saxophones and Morales-Backun bells and barrels and mouthpieces on all clarinets; he uses Legere reeds on saxophones.  Chuck is a Canadian Champion for Music Education, a spokesman and performer for the Coalition for Music Education.